Animatele SMS Delivery Network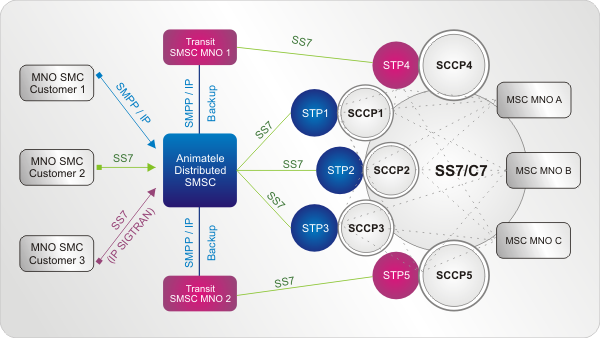 The Animatele SMS Delivery Network is a truly unique secure, reliable and high capacity platform which enables delivery to hundreds of millions of mobile subscribers of over 600 Mobile Network Operators across the globe. Animatele is not a Mobile Service Aggregator which simply resells the service of a number of delivery channels: a distributed SMSC combines the global reach of an extensive network of signaling gateways directly connected to multiple SCCP providers for message termination via International SS7.
Our ongoing investment in messaging architecture facilitates reliable, efficient and highly redundant access to mobile subscribers. Animatele has points of presence at major telehouses and connections with leading signaling carriers, enabling convenient connection methods for partners. The Animatele mobile messaging delivery network is fully meshed for optimal reliability with end to end quality of service monitoring and attentive support available 24/7 for peace of mind.
Key features of Animatele SMS Delivery Network:
Distributed multiple-node SMSC optimised for International SMS transit
Coverage of over 600 GSM, CDMA 1X2000/EV-DO and iDEN Mobile Networks
92 STP-s and 2,630 implemented SMSC Global Titles for unparalleled redundancy
Optimal quality service: average latency to handset below 4 seconds
Intelligent adaptive message routing and monitoring
All character sets supported, dynamic SMSC timestamp, local at subscriber location